We are a woman owned business certified through the North Central Texas Regional Certification Agency. We are HUB certified through the State of Texas.
Hydraulic Excavators
Excavators with Hammers
Long Reach Excavators
Breakers and Crushers
Compaction Wheels
Grapples and Thumbs
Rock, Dirt and Clean Out Buckets
Delivery Available
We Rent Success
800-427-RENT (7368)
or Email Us Here
Proud Dealers and
Distributors For:

Also...
CB BREAKER HAMMER TOP PLATES PARTS SERVICES

BAYONET BREAKER / HAMMER AND SUPPORT PRODUCT SERVICES

Gates Hydraulic Components

Werk-Brau Buckets and Attachments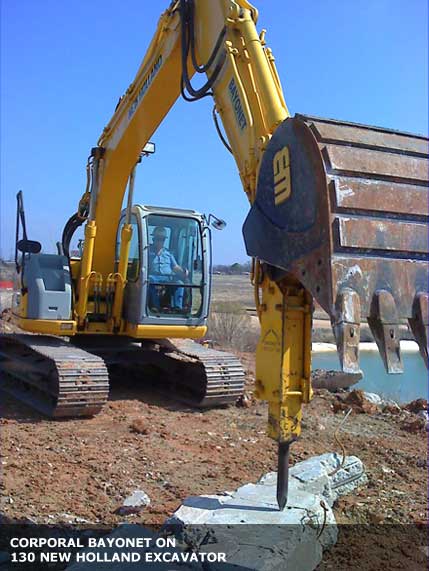 Covered By One or More Of The Following US Patents: US 6,430,849 B1, US 6,751,896 B2, US 7,117,618 B2, US 7,7257,910 B2
Born to Rubble!
Bayonet Breaker
Application

Ft. lbs / Blow Class

Private 2nd Class

Mini Excavator

250

Corporal

Mini Excavator and Rubber Tire Backhoe

800

Lance Sergeant

25,000-36,000 Hydraulic Excavator

1,500

Sergeant

36,000-50,000 Hydraulic Excavator

2,500

Master Sergeant

50,000-60,000 Hydraulic Excavator

3,500

Sergeant Major

60,000-85,000 Hydraulic Excavator

5,000

Colonel

85,000-110,000 Hydraulic Excavator

7,500

General

110,000-200,000 Hydraulic Excavator
11,000